FiltaClear® is a near clear, protective sunblock cream that acts as a natural second skin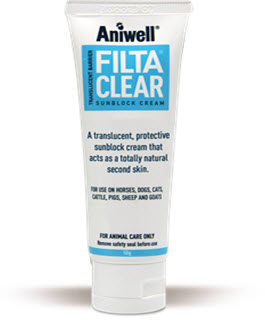 SPF:24-27(FDA > 15 ultra)*
UVA/UVB Ratio:0.6
(Category Description > 0.6 - 0.8 superior)*

*Tested Kemira Pigments, Finland: 11.11.1998
FiltaClear is a near clear (translucent), protective sunblock cream.
It acts as a totally natural second skin.
Ideal for use on horses in equestrian events (rubs in near clear, continues to give total sunblocking protection)
developed for sensitive skins
Suitable for cats and dogs - has bittering agent to minimise licking.
FiltaClear cream is ideal for the competing equestrian market
FiltaClear was developed specifically for sensitive skins
Skin conditions that need to be treated prior to or during shows and competition events.
FiltaClear gives a minimal white filming cover to protect sensitive skin areas from exposure to both sun and wind.
FiltaClear has effective qualities that will prevent foreign contaminants and dirt matter entering the protected skin areas.
FiltaClear has a thin filming cream base that can appear almost invisible if gently rubbed into the affected areas:
provides high sun-protection factor SPF 24-27 cover.
for maximum skin protection, a visible film should be applied and re-applied two or three times daily
FiltaClear is suitable for many animal species including horses, dogs, cats and kittens.
It contains a "bittering" agent to minimise licking in dogs and cats. However, it is not suitable to apply to the teats of lactating animals, around the mouth area and not to be used for dairy cows.
FAQs
Search our FAQ to see if we already have the answer for you.